It's important to take care of our skin, but it isn't always easy. Different skin types have different needs and creating a full routine can be confusing and time-consuming. That's why we created a complete skincare device that can help tackle your most common concerns with fantastic results – and without wasting your morning. With unique accessories designed to help provide both an amazing cleansing experience and gentle, loving eyecare, your ageLOC LumiSpa device is a gateway to skincare you're sure to love.
YOUR LUMISPA CLEANSING EXPERIENCE
ageLOC LumiSpa is great at that, but it offers so much more. In just two minutes, used twice per day with one of our Activating Cleansers as part of your skin care regimen, you'll begin to experience 7 amazing benefits that go beyond a simple cleanse:
1 – 37% smoother skin after a single use*
2 – 37% softer skin after a single use*
3 – 2X visibly cleaner skin after 12 weeks**
4 – 62% more radiance after 12 weeks**
5 – Reduced appearance of pores.
6 – Clearer, brighter skin.
7 – Visibly refreshed complexion.
The above claims are obtained from third-party professional assessments including observation by a clinical grader: *Results based on a 4-week in-vivo consumer use study performed on 80 subjects with sensitive skin who used the ageLOC LumiSpa Activating Cleanser for Normal to Combination Skin with the Firm Silicone Head. **Results based on a 12-week in-vivo consumer use study featuring 150 female subjects with different skin types. Results extracted above correspond to subjects with normal to combination skin. Those subjects were instructed to use the ageLOC LumiSpa with the Normal Silicone Head and ageLOC LumiSpa Activating Cleanser for Normal to Combination Skin in place of their normal facial cleanser, morning and night.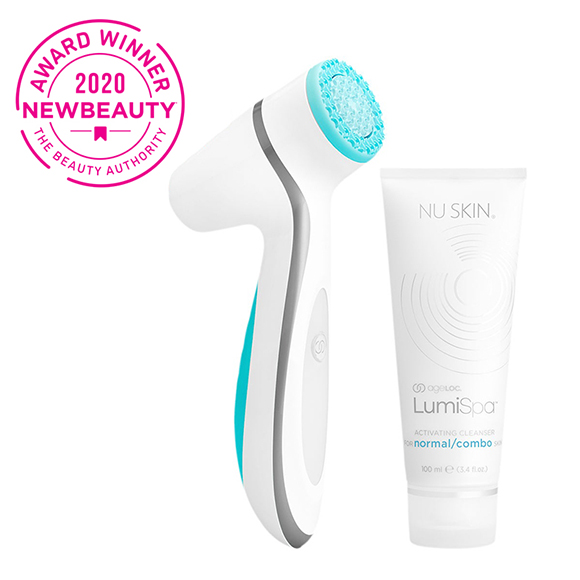 Nu Skin's ageLOC LumiSpa was named the recipient of the 2020 NewBeauty Award for Best Cleansing Device. Award winners were selected by NewBeauty editors for the 10th Annual NewBeauty Awards, one of the leading publications and awards programs in the beauty industry.
For more information, please click here.
ageLOC LumiSpa Demo: How to use your skin care device | Nu Skin
Learn how to make the most of your ageLOC LumiSpa skin care device with this helpful demo and enjoy your 7-in-1 solution for youthful looking, glowing skin.
ageLOC LumiSpa: Earning Headlines | Nu Skin
ageLOC LumiSpa Accent & IdealEyes Demo:
How to use your eye illuminator kit | Nu Skin
Why should you use ageLOC LumiSpa & IdealEyes? | Nu Skin