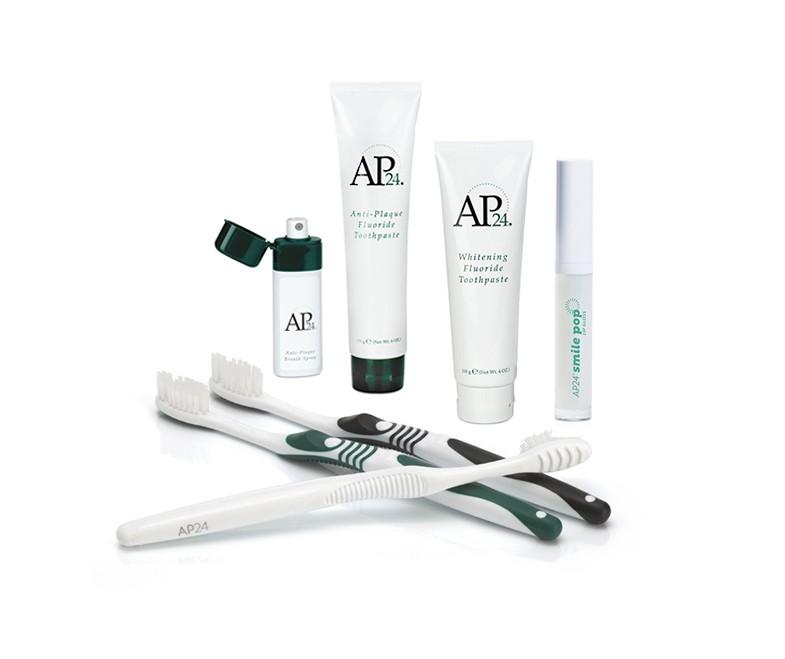 AP-24® Anti-Plaque Fluoride Toothpaste
For clean teeth, use this cavity-fighting formula to help remove plaque and debris as you brush.

AP-24® Whitening Fluoride Toothpaste
Whitening Fluoride Toothpaste
Now you can smile with confidence thanks to this great tasting Whitening Fluoride Toothpaste that brightens and whitens teeth while fighting plaque formation.


AP-24® Anti-Plaque Breath Spray
The prefect away-from-home plaque controller! This spray does not just mask mouth odour, it protects your teeth and gums.
AP-24® Toothbrush (3 pack)
The new AP-24 Anti-Plaque Toothbrush incorporates a channel bristle technology that helps remove 15% more plaque from tooth surfaces.
AP24 Smile Pop Refreshing Lip Gloss
Refreshing Lip Gloss
Pop! Dazzle! Shine! Keep your lips moisturised, shiny, and oh-so-yummy with AP24 Smile Pop – a refreshing lip gloss with a vanilla-mint hint. With antioxidant benefits of Vitamins E and C, it'll leave your lips feeling supple, soft and smooth, while its pillowy applicator guarantees the perfect coat of gloss for a picture-perfect shine.
AP24 Bright Smile Duo | Nu Skin
AP 24 Smile Pop | Nu Skin